---
As the colder months creep in, I threw together these cookies with the thought of nourishing my body with what it has been in need of lately.
I have an abundance of coconut flour in the pantry so decided that would be the base, I used beet powder for energy as coming into the colder months I want to make sure I'm still springing out of bed with the same drive I had in summer, collagen to keep my injuries at bay as the change of season makes them resurface (I can now tell when it's cold because of my should pain, not just because its actually cold. Thanks shoulder but don't need you, Ill just go stand outside!) Coconut oil and MCT for my butter substitute to keep me fuller and switched on through-out the day and then I added a little bit of Milky Mumma Goddess Blend for Hair, Skin and Mood Enhancement. This Milky Mumma product is amazing if you haven't seen her around before. I have been adding a scoop to my smoothies everyday so figured why not throw some into these cookies as well.
Enjoy!
---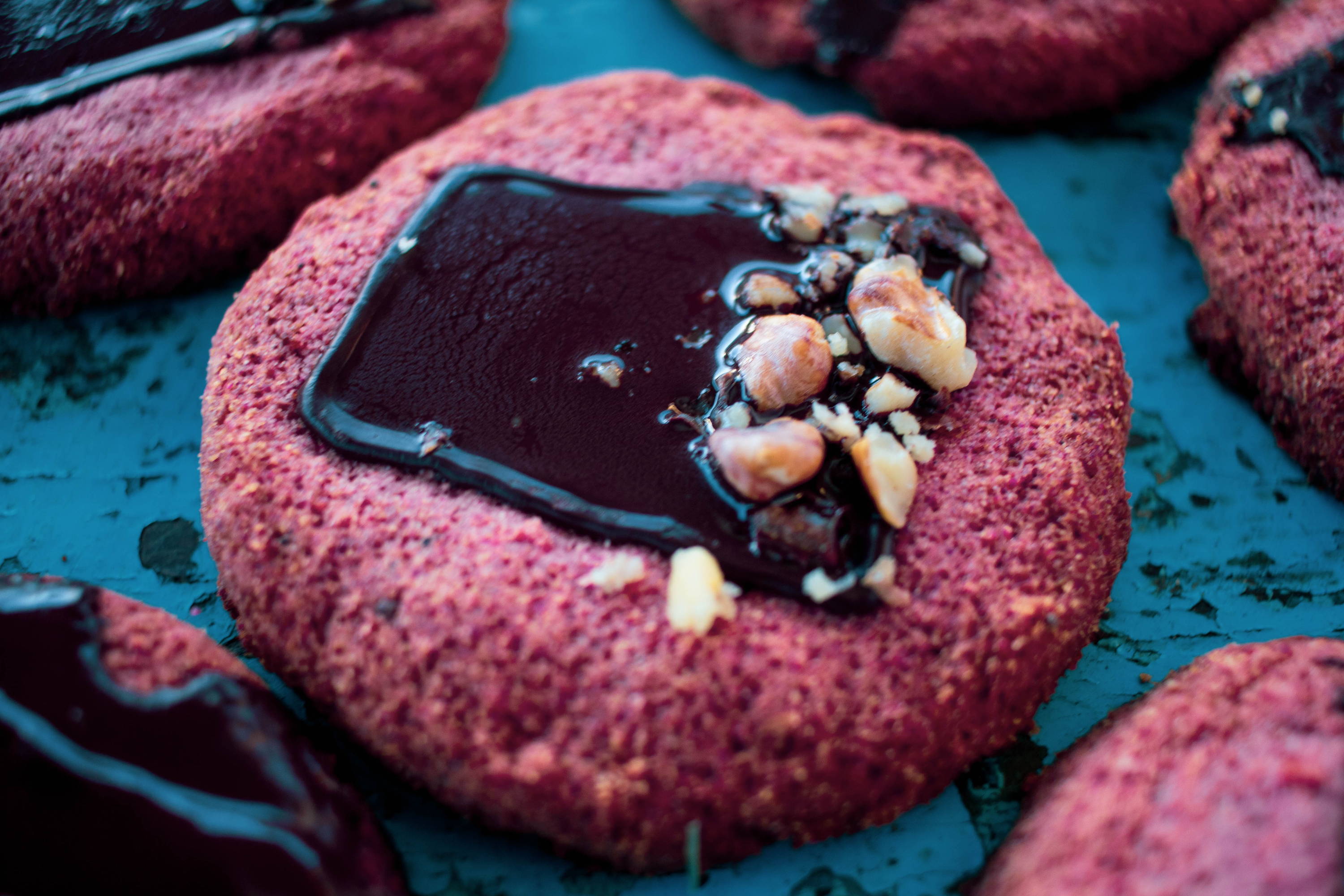 Turn oven onto Bake at 150C
Line a baking tray with parchment paper and put to one side
In a large mixing bowl, add coconut flour, collagen, beet powder, monk fruit and goddess blend and mix till combined.
Add melted coconut oil slowly while mixing and checking consistency to ensure too much isn't added.
Add MCT, mix to combine.
Once mixture is combined, scoop mixture into balls and place on baking tray, flatten using fork. I made mine quite thick to press the chocolate in the middle of.
Once all cookies are laid out on tray, add one piece of dark chocolate to middle of each cookie.
Put in oven for 15 minutes.
Remove from oven and sprinkle chocolate with crushed walnuts.
Enjoy right away or put in fridge. They texture and taste are great straight from the fridge!
2 Cups - Coconut Flour

2 Tbsp - Collagen

1/4 Cup - Beet Powder
1/4 Cup - Monk Fruit
3/4 Cup - Coconut Oil (Melted)
20ml - MCT Oil
1 Scoop - Milky Mumma Goddess Blend
95% Lindt Dark Chocolate
Crushed Walnuts (Optional)
*Monk Fruit can be swapped for Maple Syrup or any desired sweetener. Adjust qty accordingly.