---
One of my favourite treats living in Vancouver, Canada, was being able to go to the tastiest vegan donut shop in the city and pick up a cup full of donut holes. You could mix 'n' match, grab a few or grab a lot. They were a great gift for co-workers or friends on days when you're feeling extra giving, or a great dessert to grab on the go to a dinner party if you didn't have time to organise anything yourself. The best part was that no one even suspected them to be vegan.
Reminiscing on these memories this week had me jump in the kitchen and throw together one of my favourite flavours into these little magical balls. These guys are packed full of the good stuff, low carb and can be consumed for breakfast, lunch or an after dinner snack. Made with our Dark Chocolate Hempro, adding peanut butter seemed like the obvious choice, however, adding any flavour to this would compliment the chocolate. They are soft and moist and will kick any craving to the curb.
They are dairy free, gluten free, sugar free, and Keto friendly. As I am no longer vegan, I did throw an egg into the mix, however, due to the nut butter in here you could remove it if you so chose. You will be needing either a cupcake maker or a silicone mould to get the ball shape.
**DISCLAIMER - DONUT NOT INCLUDED**
---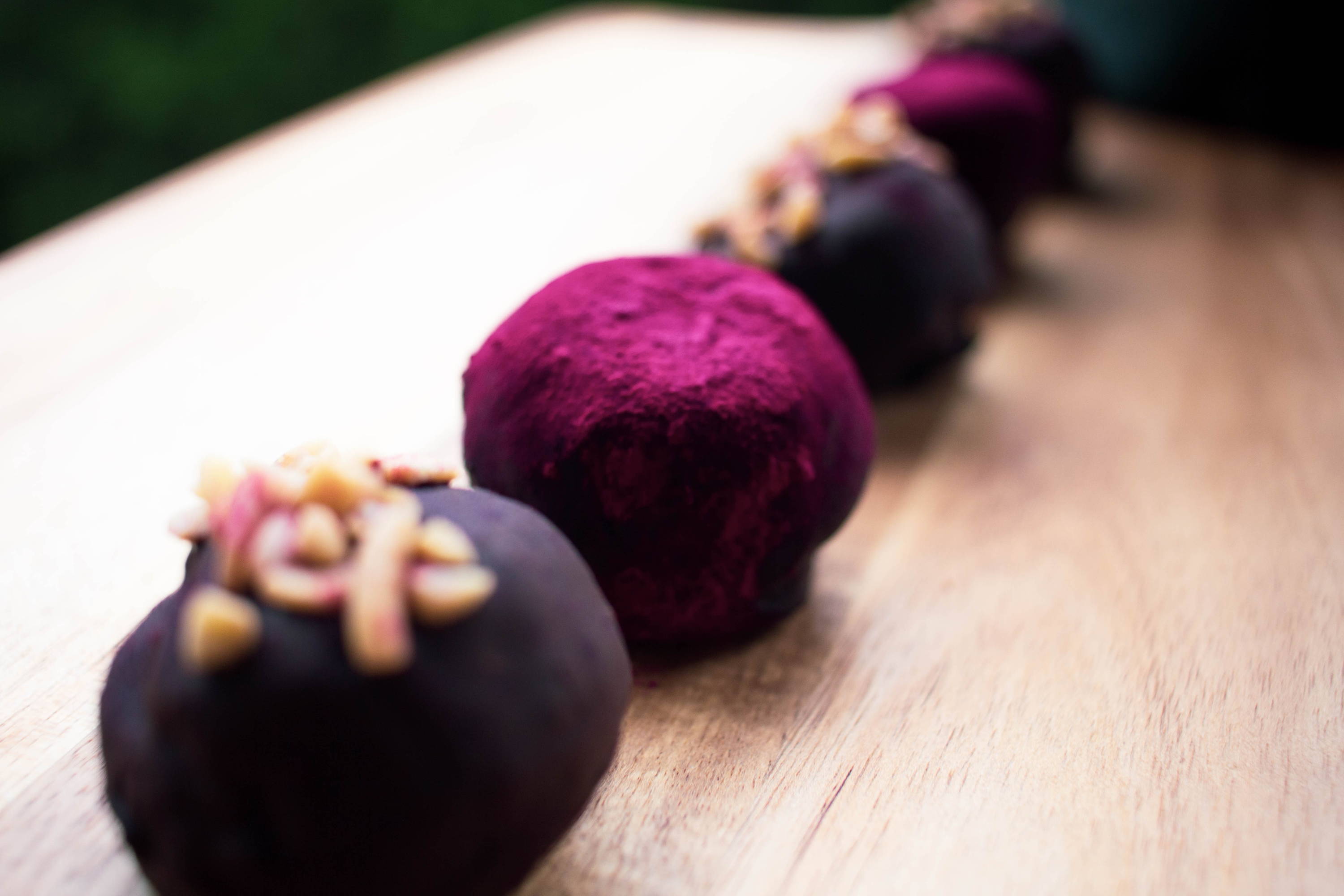 Donut Holes
In a large mixing bowl, mix together the Protein Powder and Almond Flour until well combined
Add the melted Coconut Oil, Peanut Butter and Egg, mix until combined.
Coat the cupcake maker with a thin layer of coconut oil.
Using 2 butter knifes, take a small amount of donut mixture on one, using the second knife, add the mixture to the cupcake hole. To get the round shape, use the knife to circle the donut mixture around gently. The mixture sets pretty quickly on the outside so once a round bottom is shaped, move onto the next one.
Once each cupcake hole has been filled, using whatever utensil you prefer (I used Chopsticks) turn the donut hole over to cook the top.
Chocolate Coating
Melt chocolate in a small bowl.
Take finished donut hole and dip in chocolate until fully coated.
Set coated donut hole aside on parchment paper.
As the chocolate is beginning to set, sprinkle a crushed peanuts or beet powder to garnish.
Once all donut holes have been garnished, place in fridge until ready to enjoy.
Peanut Butter Protein Donut Holes
Chocolate (Optional)
60g - Sugar Free Dark Chocolate

Crushed Peanuts